Dr. Willis M. Rapp, Conductor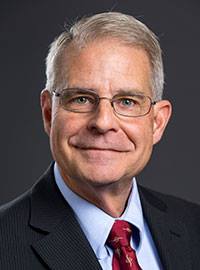 Willis M. Rapp holds the Bachelor of Science and Master of Music Degrees in Music Education from West Chester University of Pennsylvania, the Diploma of Fine Arts in Conducting from the University of Calgary in Alberta, Canada, and the Doctor of Musical Arts Degree in Instrumental Conducting from the Catholic University of America in Washington, DC. Dr. Rapp has served on the faculty of Millersville University, Southeastern Louisiana University, Iowa State University, and Kutztown University, where he retired in 2013 with the distinction of Professor Emeritus.
Dr. Rapp has a forty-year career as a published author with over 500 publications to his credit through Charter Publications, Jenson Publications, Educational Programs Publications, Meredith Music Publications, and the Hal Leonard Publishing Corporation. With one exception, he was the youngest student to have studied timpani and orchestral repertoire with Fred D. Hinger, legendary timpanist for the Philadelphia Orchestra and the Metropolitan Opera Orchestra. Dr. Rapp also performed as Principal Timpanist of the Allentown, PA Symphony Orchestra during the years when William Smith, former Associate Conductor of the Philadelphia Orchestra, served as Music Director and Conductor of the ASO.
Since 2000, Dr. Rapp has served as conductor of the Reading Pops Orchestra; he has guest conducted, performed as a recitalist, and appeared as a clinician in twenty-eight states and three provinces in Canada. His scholarly text, The Wind Band Masterworks of Holst, Vaughan Williams and Grainger, was released in March 2005. In 2007 he was the recipient of the Kutztown University Faculty Research Award, and in Fall 2009 he was honored with the Arthur and Isabel Wiesenberger Faculty Award for Excellence in Teaching, making him the first faculty member in the history of the university to be honored with both awards.
Julie Beth Drey, Managing Director/Past President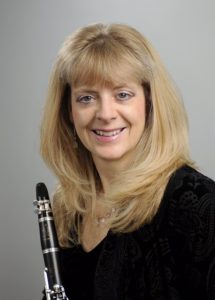 Julie Beth Drey is a Magna cum Laude graduate of Temple University where she studied clarinet and saxophone with Ron Reuben of the Philadelphia Orchestra. She has been performing in the Reading area since 1983. Julie is a member of the Reading Symphony Orchestra. As a freelance musician Julie appears with various organizations, including the Berks Chamber Orchestra, The Fulton Opera House (Lancaster) show productions, Theater Musicians Organization of Allentown, Anthracite Philharmonic, Genesius Theater, and with the Reading Pops Orchestra where she also serves as President on the Board of Directors. Her duties include behind the scenes arrangements for each concert, promoting the group, fundraising, and anything benefiting the general success of the orchestra.
Julie is the founder of the Fyve Woodwind Quintet that performs for recitals and weddings. She is a member of the Reading Musical Foundation sponsored Music in the Schools woodwind quintet that presents educational concerts for the students of Berks County schools. She also has a duo, Just Friends, performing both classical and jazz repertoire. She has performed with the former Pottstown Symphony, and Schuylkill Symphony.
Rounding out Julie's busy concert schedule is an active private studio of budding musicians. She is very proud of her clarinet, flute, and saxophone students who have placed well in Reading Symphony Youth Orchestra, Berks County Band and Orchestra, as well as Pennsylvania Music Educators District, Regional, and State bands and orchestras, and Reading Musical Foundation scholarships. And at the end of the day, Julie devotes practice time on clarinet, flute, and saxophone, preparing for her favorite performing opportunity, Broadway style shows. Other passions include listening to jazz, swimming, crafting jewelry, sewing, and cooking.
Veronica E. Mascaro-Ferraro (Wyomissing Stone House 2023)
Veronica E. Mascaro-Ferraro, flutist and conductor, is a former Teaching Fellow at the University of North Texas, where she was a doctoral student under the tutelage of Dr. James Scott and Professor Terri Sundberg. Ms. Mascaro is a past member of the North Texas Wind Symphony and current member of the Lone Star Wind Orchestra. Originally from Pennsylvania and a graduate of Wilson High School, Ms. Mascaro continues her east coast relationship with her memberships in the Kennett Symphony Orchestra, the Cantatica Chamber Orchestra, and the Bel Canto Orchestra. Veronica is a frequent performer at Salon 33 in Princeton, New Jersey! She performs and publishes with the Mascaro-Newman Flute and Guitar Duo. Internationally, Veronica has served as faculty member for the Ameropa International Chamber Music and Solo Master Class Festival in Prague and the ChamberArt Chamber Festival in Madrid, Spain. In Texas, Veronica is flute teacher at Flower Mound High School, Shadow Ridge Middle School, McKamy Middle School, Lewisville High School, and Maus Middle School. Locally, she is on faculty at the Nelly Berman School of Music. Ms. Mascaro is the current conductor of the McKinney Community Concert Band Flute Choir and the Flutissimo Flute Choir.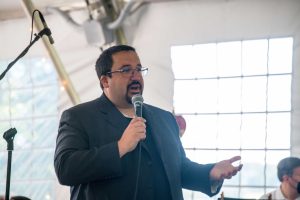 Andrew Cusano (Fathers' Day/Juneteenth Remembrance 2022, Fathers' Day/Juneteenth Remembrance 2023)
Andy is the son of former Pops conductor, Paul Cusano, and Ann Cusano who plays in the bassoon section.  Andy has also performed with the RPO in the percussion section over the years.  He is a graduate of Eastman School of Music and is currently enrolled in a wind conducting master's program at West Chester University.   Andy is the band director at Governor Mifflin High School and was one of the founders of Berks Sinfonietta where he shared conducting duties and performed as a member of the ensemble.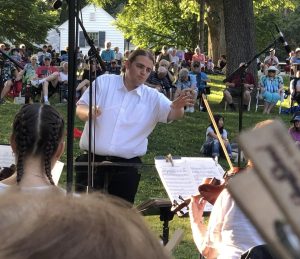 Tyler Readinger (Wyomissing Stone House 2022)
Tyler Readinger, a native of Reading, will lead the RPO once again.  You may recall he was a guest conductor a few years ago!  Currently a doctoral student at the Jacobs School of Music of Indiana University, he holds a Master of Music degree in orchestral conducting from Indiana University, and a Bachelor of Science degree in music education from Kutztown University.  He has quickly gained traction as a versatile young conductor, collaborating with world-class artists, ensembles from Jacobs School of Music, Cincinnati College-Conservatory of Music, Curtis Institute of Music, Manhattan School of Music, and multiple summer conducting programs including the International Conducting Workshop and Festival in Lviv, Ukraine, among others.  A continuous advocate of music education to all ages and backgrounds, sharing the passion and joy of music had him working as an educator and private instruction within communities of the Dominican Republic, Haiti, and Kenya.  His enthusiasm on the podium has him conducting comfortably in a wide variety of styles and genres, from classical and symphonic, to contemporary and new music.  Please visit Tyler's website.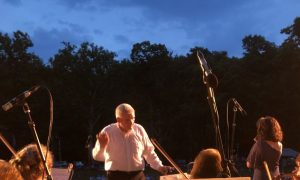 Daniel Neuenschwander (Reading City Park Band Shell 2022, Heartland Marimba Quartet at Kutztown University 2022)
Dan Neuenschwander, Director of Bands at Kutztown University, will lead the Pops with guest artist Maria Damore.  Dan conducts KU Wind Ensemble, KU Symphonic Band, and KU Trombone Choir, featuring standard repertoire and orchestral transcriptions, and new music as well as lighthearted more incidental types of pieces.   During his 20+ years in music education he previously was on faculty at the University of Illinois Bands, and has also conducted high school/middle school honor bands and youth orchestras across several states. Please visit Dan's bio on Kutztown University's website.